Myostatin
is one of the main reasons we're not all
mesomorphic
hulks: it says to the body, "Hey, you have enough muscle, now start saving up fat in case we're starving later!" Well, it actually doesn't
say
anything, but you get the idea. It's regulated pretty strictly by genes, and one locus in particular determines whether or not your body makes it
at all
. These particular alleles are co-dominant, but it so happens that those who are homozygous "for" myostatin are the most common, and so we shall call that "normal." When organisms are heterozygous, they tend to be more on the big & burly side than their kin. But every so often, we find an organism homozygous "for" not having myostatin.
When this happens to
whippets
, they're called "
bully whippets
," and they look like they're Photoshopped: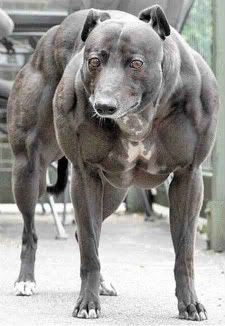 I promise you that this image has not been tampered with. Neither has this
Belgian Blue
: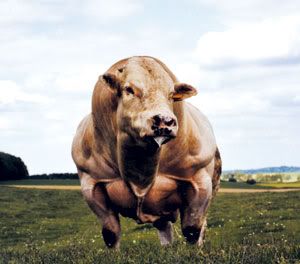 Sport animals and livestock are sometimes bred for myostatin deficiency in order to be more adept at whatever it is that they do, whether running races or producing meat for human consumption. It carries complications with it, but so do all genes (some are just more complicating than others). So what happens when this sort of thing occurs in a human body?
Liam Hoekstra
is what happens. He was first able to do the
Iron Cross
at five months old
. He's been described as a "real-life Superman," but "real-life Captain America" is more like it (even though he's from Germany), considering
the nature of their "powers"
both cluster around embodying the peak of human capability. Everybody wants a piece of this kid, and it's actually making his family life pretty difficult. I'll say this once for clarity, and only once because it ought to be a non-issue:
private citizens are entitled to private lives and being of scientific curiosity entitles no individual or organization to "a piece" of that person
. At the same time, being of scientific curiosity is no fundamentally more or less newsworthy than being a good speller, or a good runner, or a good football player, or a good businessperson, so this definitely qualifies as news (but nobody gets to "do anything" with that news unless it's OK with young Liam and his family). Capisce? Great!
So I think that we can all agree that myostatin is interesting stuff, and it will be interesting to see if Mr. Hoekstra does anything else newsworthy in his life (besides being born with some particularly interesting genes).