Did you go to high school? Have you heard of geometry? Ever study fifth-century BCE Greek history? If you answered "yes" to any of the foregoing, then you've almost assuredly heard of Pythagoras, or at least
his famous theorem
. Perhaps the simplest version of the theorem is presented on this stamp: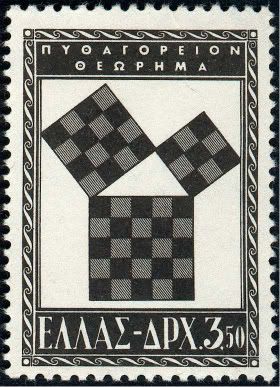 In and of itself, well, it may be unimpressive. Fine. Mathematics, after all, is nothing if not the study of tautologies (
interesting
tautologies, if you ask me). But then there's
this page
, which has a whopping
eighty-one proofs
! They range from simple to "Damn it, I need to take more math courses" in complexity.
What I find so cool about this is that so many cultures have arrived at the conclusion independently. As geometry is simply formal logic about numbers and their relations, I think it could be used as a rough measure of intellectual sophistication (give or take a whole bunch of whatever, of course). Consider, for example, the following image: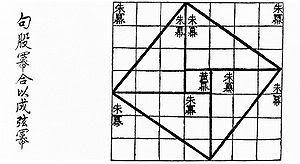 I can't read that. It's fuckin' Chinese to me, man. But I sure as Hell know what it means! Mathematics, truly, is the Universal language - and geometric proofs are perhaps the only ideas that could in any sense at all be flawlessly translated between languages.