Ahem. Inspired by
Saturday's Daylight Atheism
, I cooked up a little blasphemy in my kitchen just now to tide me over until I get the rest of my stuff in the mail. All of the below photographs can be clicked for huge.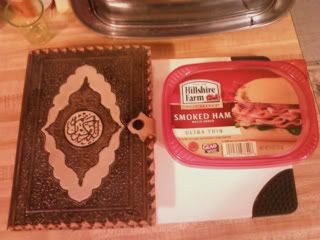 Can you guess where this is going?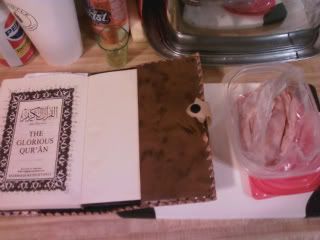 Wait for it...
I'd say "boo-yah," or something similarly triumphant, but the thing is,
I don't give a fuck
. Like, I know that some book-burning, cartoonist-threatening, bacon-hating shit-heads with carp for brains would get their undies in a bind over this, but
they're stupid
, so who cares what they think?
OK, that's enough pointless nonsense for now. I'll wait for the death threats to roll in, and follow them up with Miss Piggy kissing Mohammed (unless you, the General Reader, can give me something even
more
blasphemous to draw).