The Antenna Galaxies are a reminder that, in the grander scheme of things,
we ain't shit
. I mean, if you think you've got a dust problem behind your couch, you should see the dust clouds kicked up by
a galactic collision
.
Seriously.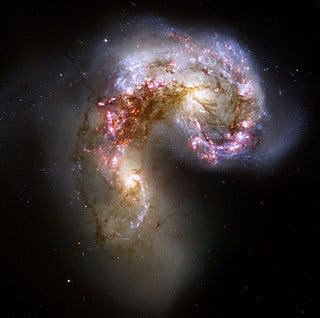 These two galaxies have been colliding for hundreds of millions of years, orders of magnitude longer than all of recorded human history. They will continue to collide for hundreds of millions more years, in all likelihood well after we have died out and all traces of our civilization have disappeared wholly from the cosmos.
During this time, the scale of which is far beyond the human mind to truly grasp, events have been transpiring which are orders of magnitude grander than anything that could possibly happen on Earth - the reason is nothing to do with Earth or its inhabitants, but the simple fact that these events would destroy our world utterly.
These inconceivably epic collisions between all manner of celestial body have been happening always and everywhere on a stage far grander than any our species has ever known. If every single event of every history book of every nation were to be reenacted simultaneously, each upon a separate life-sized stage of its very own, all of these areas together would not even register on the above image, which is itself but a single moment in time that took forty-five million years
just to reach our eyes
.
In short, we can't even understand how much greater this is than even our ability to understand things in the first place.
The Antenna Galaxies are, in every conceivable way, utterly beyond our comprehension. We simply never deal directly with anything on a scale even remotely close to this size - not time, not distance, not force,
not anything
. If there existed a god, then surely this would be a prime candidate for the focus of divine attention: the magnificent story of two galactic formations swimming inexorably towards each other through the inky blackness, pulled by nothing but the universal force of attraction into a celestial mating dance of truly epic proportions.
Compared to this, all of humanity is but the blink of an eye upon a speck of dust in the next room over. We think we're hot stuff, all right, but even our invented gods were so petty and parochial as to be utterly ignorant of this truly grandiose phenomenon. Not one holy book mentions the antenna galaxies - one would think that a god would take notice, or at least want to show off its handiwork.