I left off yesterday vaguely gesturing at my transition from fundagelical Christianity to non-denominational Christianity.
I didn't know whether I could trust the Bible or not, and the Bible itself is no help here (if I doubt a book, then I clearly can't take the book's word that I shouldn't doubt it!). I want to clarify right up front that my problem with God thus far isn't that I don't
want
to believe in him - after all, if there is in fact a Heaven which is the Best Thing Ever, then I
certainly
want to go there! - it's that I want to believe sensible things and
I can't make God make sense to my mind
. God could
make
it make sense to me, though, if he wanted (because he knows what I mean by "sense," and he knows that I want to believe in what makes sense).
But wait... even if I get to Heaven, is there still a Hell? If so, then if I'm in Heaven and know about Hell, it's gonna make me
fuckin' miserable
! I barely manage to get by as is, knowing that people starve to death
every fucking day
; how much worse would this be if I knew that people were being
tortured forever
?! I came to the conclusion that this could go three ways: either there is no Hell, or God needs to give me an empathy-ectomy at the Pearly Gates, or I need to forget about Hell. If there is no Hell, then... no problem! I don't even need to worry about it myself! But if there is, and God gives me an empathy-ectomy
or
makes me forget a rather key fact of reality, I don't really see what makes such a being worthy of worship. Not being dismissive, I just don't see anything good in a being that says with its actions, "Forget about those losers, they don't count; come hang out with us cool kids."
I don't know what it is, but all my role models, all my favorite superheroes, everyone I admire and even myself, we all have one thing in common: we are unable to stand idly by and watch others suffer. How is it that God is able to do such a thing, but still call himself good? I looked into the literature and found a whole lot of stupid bullshit.
Theodicies, in my experience, are categorically
failures
, more or less because I buy into Epicurus' dilemma: "Is God willing to prevent evil, but not able? Then he is impotent. Is he able, but not willing? Then he is malevolent. Is he both willing and able? Then whence cometh evil? Is he neither able nor willing? Then why call him God?" Who gives a flying fuck about our precious free will? Not God - he hardened Pharaoh's heart several times, he chose Moses and Saul of Tarsus despite their wills, and when Jonah flew the coop, God wouldn't take "no" for an answer. No, abiding evil when you don't have to, compromising with it when you have the advantage, allowing it when you could do otherwise, this strikes me as "knowing better but doing worse." This is a long-respected definition of "evil."
Let's briefly switch gears and talk about relationships, starting with figure 4:
a peer
, another adult among many, capable of making intelligent and mature decisions autonomously. This is done with one-on-one interaction, an adult teaching a child step-by-step to become an adult itself. And this is done, at least in part, because the parent loves the child and cares for its well-being. Now consider the relationship between God and humanity: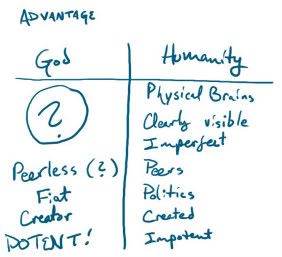 Once I saw that, I couldn't un-see it. Good parents don't let their children do whatever the Hell they please; good parents make themselves a known presence in their childrens' lives, they raise their children by hand and guide them into becoming better people. Good parents do
whatever the Hell it takes
to protect their children and raise them to be the best people they can be. Any parent who allows her child to upset her has failed to control her temper; any parent who strikes a child in anger is at fault for not remaining in control of the situation. Why? Because children don't know what the fuck they're doing. I would know: I was a child once and I did some
really
embarrassing shit!
The parallels don't stop there. Households have rules, and parents are their authors; similarly, reality has rules (yay physics!), and God is their author. Why didn't God include any of
these
rules in his instruction manual? People understood math
long
before the Hebrews put quill to scroll, so why does the Bible have precisely
zero
interesting math in it (with the exception of a botched calculation of pi)? Moreover, why a holy
book
, instead of something more impressive?
Every
religion has holy books, but no religion has a holy organism that sings the holy text aloud and has no natural predators. Or how about a holy computer, a machine from God that can answer all our questions and also preserve God's language? The machine could also self-replicate and self-assemble, like a glorified
RepRap
machine. And a million other things, too - in short, why is God so
boring
?! Why did God do
nothing
to distinguish the one true religion from
every other religion
? Why is Yahwism, to all appearances, the same stuff in a similar package? I just
don't get it
.
But most importantly, if God exists, then why is he hiding from me?
Silver Garou
came up with what I think is an excellent argument on exactly this point, and it proceeds as follows:
1. God is omnipotent and omniscient, and therefore cannot be stymied in his efforts (or at least not by humans).
2. Since I myself know what would convince me of God's existence, God too must also know that thing.
3. Thus, God knows what would convince me of his existence. (from 2)
4. God has not convinced me of his existence (my mother did, once, but that wore off).
5. "Being hidden" does not necessarily imply the intention of "is hiding," since ruins can "be hidden" in the forest but obviously have no intentions of hiding. Yet until they are actually found, they do in fact remain hidden.
6. An entity that chooses whether to remain hidden or not, and has this as its option, does so with intent insofar as it is intelligent.
7. God is intelligent.
8. Thus God cannot remain hidden unless he also intends to be hidden and therefore "is hiding." (from 1, 6, 7)
C: Since God has not yet convinced me of his existence, then he is either hiding while waiting, or hiding forever, or does not actually exist as such (as omnipotent and omniscient, or at least enough of those things to actually convince me). Or he just doesn't want me to believe in him, which I guess is cool, too, except that it tells me he wants me to go to Hell (if there is one). (from 1, 4, 8)
God knows where I'm at, and God knows what it would take to make another Saul, Thomas, Jonah, or Pharaoh out of me. I can think of many reasons for him to do so, but none at all for him to wait or not do so at all.
OK, whew! That's it from me on why I don't believe... in
this
discussion...
so far
...
today
. It's been a little rough, but that is the gist of why theism makes no sense to me. So that's enough out of me: what do you think, cl? Where do you disagree with me, or at least diverge, and why? I'll make the assumption that you've still got what you think is a better way, and I'm curious to know what it is that you think
is
a good justification for theism, and why I should endorse it. Or, if it's a matter of personal revelation, then I'm curious as to how you can comfortably and honestly distinguish that revelation from insanity - no joke, this is an honest question on my part here.
I've pretty much said my piece and will wait to write anything as substantial as this until either I'm asked a direct question, or something else piques me. Ball's in your court!